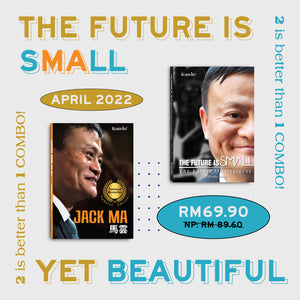 Jack Ma
To quote T. E. Lawrence, "All men dream, but not equally. Those who dream by night in the dusty recesses of their minds, wake in the day to find that it was vanity: but the dreamers of the day are dangerous men, for they may act on their dreams with open eyes to make them possible." Jack Ma, the founder of e-commerce behemoth Alibaba, has built his success based on his belief and dream that the Internet will become something big in the future, when no one believed he would succeed in any way. This book shares Ma's entrepreneurial journey and many of his valuable insights and advice that will definitely impact many youth and budding entrepreneurs.
The Future Is Small: The Future Of Business by Phoebe Wong
This book is not another Jack Ma's biography that talks about his entrepreneurial journey. This book will delve into how the future will unfold for businesses and companies.

Like a prophet calling people to prepare for what's ahead, Ma is passionately sharing his vision of the future so that they are not taken by surprise. Believe it when Ma says the future is all about the 30s. The future is small, yet beautiful.
The changes in the next 30 years will be beyond our wildest imagination. The coming 30 years will have a huge impact on each and every industry. If you are pessimistic about the future, it will crush you; however, if you are optimistic about the future, you'll be flooded with abundant opportunities. – Jack Ma

Help young people. Help small guys. Because small guys will become big. Young people carry the seed you bury in their minds, and when they grow up, they will change the world. – Jack Ma

Please also pay special attention to women. Women care for other people much more than men. Women are going to be very powerful in the 21st century. In the last century, people compared muscle; this century, people compare wisdom. Hire as many women as possible – this is what we did and this is our secret of success." – Jack Ma

I believe if people want to be successful, they should have a high EQ. But if they don't want to lose quickly, they should have a high IQ. But if you want to be respected, you should have a high LQ – the Q of Love. – Jack Ma