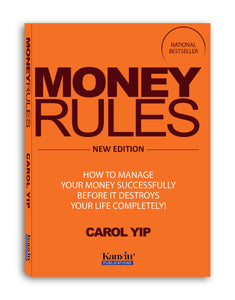 Are you having difficulties in managing your money because of unexpected circumstances and confronting personal issues? Are your actions dictated by how much money you have? Do you wish you can master money so that you control it completely, instead of being a slave to it? If so, MONEY RULES is your saviour, in more ways than one!

In this book, Carol Yip combines the psychological elements of human behaviours and financial concepts to create an exciting field that she calls Behavioural Finance in personal Money Management. This book also uncovers those ways, brings to light the psychological effect of credit cards, and why it may be all too easy to fall into debt despite your best intentions.

This book reveals 11 SIMPLE and POWERFUL methods to break your overspending behaviour and LIVE LIFE to the FULLEST before it is too late!
Author: Carol Yip