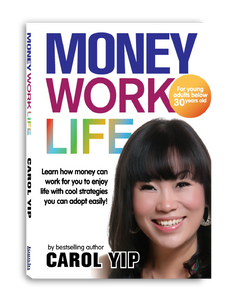 *This is an E-book Version 
Money Work Life: Learn how money can work for you
~ Carol Yip
Synopsis:
This simple, easy-to-use practical money book is specially designed to help young adults handle money efficiently so that they will take the first correct steps towards achieving their money goals and a secure future.
Financial independence means not having your parents watch over you and telling you how you should manage your money. They can't help doing so, unless you are wise with your savings, spending and investing. Being able to manage your money smartly will also give them peace of mind, as they won't worry about you being in financial distress.
To be financially successful, you must be empowered to take charge of your own financial and life destiny; this is one of the most important fundamentals in life. You must arm yourself with financial knowledge, financial strategies and good money management skills i.e.:
• Smart spending and savings
• Smart debt management
• Effective investment and wealth protection
• Effective financial planning and execution
By learning to develop effective financial strategies, you are cultivating healthy financial habits to manage your money effectively, and not make foolish financial mistakes like going into debt unnecessarily or making bad investments.