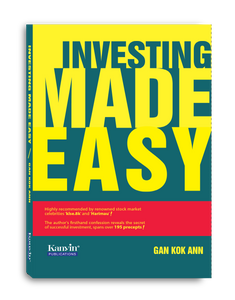 ISBN: 9789671706398
Pages: 456
Published date: 2020
Gan Kok Ann shares his lifelong investment insight in the form of 195 essential precepts, covering a diverse range of down-to-earth investment topics, touching on his personal successes and bitter failures.

He also reveals the secret behind his success in his proprietary stock picking system called GSSS (Gan's Stock Scoring System).
The contents of this book are targeted at readers from all walks of life, irrespective of their investment skill levels and backgrounds. If you are determined to create a versatile lifelong wealth building machine, you should not miss this highly recommended book!

Let the truth be told: By strictly applying all teachings portrayed in this book, investment becomes easy to grasp and thus getting rich is just a matter of time, albeit slowly but surely.
Author: Gan Kok Ann