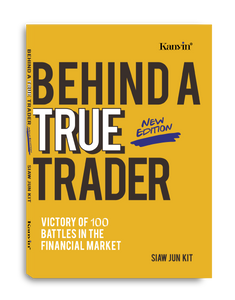 **"Purchasing from outside Malaysia? For international orders and shipping rates, please email read@kanyinbooks.com**

ISBN: 9789672805595

Pages: 324

Published Year: 2024

Synopsis:
As the saying goes,"What you have learned from books is often superficial; true knowledge comes from practical experience. " The Ability to Comprehend is the prime factor in the pursuit of learning. This book, however, does not offer explicit instructions on how to hunt precise entry points and secure exit points. This is not an unintentional mistake made by the author but rather intentional.

Here are the reasons:
Fact 1#: By merely studying this book once, you will realise that the author has imparted the essence of Technical Analysis to you. By thoroughly understanding the author's content, you will acquire the necessary skills to effectively execute trades on any investment vehicle worldwide.

Fact 2#: By reading this book twice, you are empowered with the knowledge and understanding necessary to grasp the intricacies of Technical Analysis fully.

Fact 3#: By "savouring" this book beyond five times, one will come to the realisation that the author has not provided a systematic arrangement of the necessary steps and procedures involved in executing trades.
If you are aware of the last fact, congratulations! You have developed a bottomless comprehension in the realm of Technical Analysis. This powerful tool will serve as an everlasting weapon for you to navigate the investment world, and you will gradually transfer into an independent master –a Veteran Driver.

If you are a novice in the financial field, this book might bear a resemblance to other mainstream investment books, lacking excitement and find it – Unattractive .

If you are an intermediate player in the finance industry, particularly someone who has read numerous investment books, this is the book you truly desired and longed for – the Ultimate Holy Grail.

If you are a distinguished figure in the financial sector, you may find yourself taken aback, and perhaps even perplexed as to why you are allured and find its contents practical – a Sensational Literature.

If you have the roots of delving into thousands of investments and non-investment books, you might find yourself experiencing a profound emotional response, perhaps even exclaiming, "Why didn't the author launch this Masterpiece sooner, so that I could have pursued secular accomplishments sooner!?"