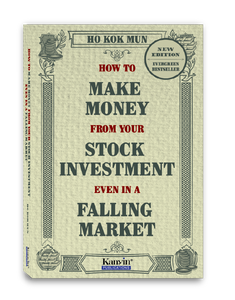 ISBN                     : 9789671706350
Pages                   : 362 
Published Year : 2021
The book might come with one or more conditions below but at a cheaper price:

1. Bent and warped
2. Creased book spine / spine wears
3. Scratches and marks on book cover
4. Yellowish book cover
5. Spot UV peels off
6. Book cover dented
"How to Make Money from Your Stock Investment Even in a Falling Market" was first published in Malaysia in 2004. Up until 2018, over 35,000 copies have been sold, making it an evergreen bestseller.

In this new edition, Ho Kok Mun has added more case studies, included new calculations samples, enhanced stocks selection criteria, elaborated on dividend topic, analysed annual report, updated frequently asked questions and discussed many other essential topics.

Stock investment is a great source of confusion for many. They equate investing in stock to gambling, therefore see it as extremely risky. The truth is, stock investment is not risky at all. It is risky if only it is done without proper knowledge.

Ho Kok Mun will reveal his strategies behind his selection of stocks based on estimation of intrinsic value and fair value. He will show you how you can make money from your stock investment even in a falling market. If you are new to stock investment, this book will be the first step of your first mile.