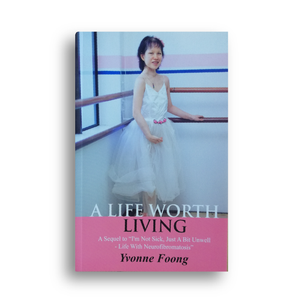 A sequel to "I'm Not Sick, Just A Bit Unwell - Life with Neurofibromatosis". In this book, author Yvonne Foong walks back in time to find the answer to a question most frequently asked by many - where does she draw her inner strength from and her tenacity to overcome her trials and tribulations. Emotionally and physically trying, Yvonne's early childhood experiences have made her empathetic towards the hardships of others and given her the desire to empower them to live their best life.
*A motivational speaker, author and ballet dancer, Yvonne Foong died at the age 33 on November 11 2019, after her 17 years battle with neurofibromatosis type II.  
All proceeds from her books will be donated to her mother Madam Chia Kwee Que in good faith.