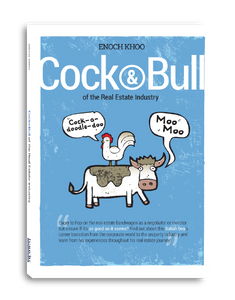 Everyone seems to be an expert when it comes to real estate investment – no matter if you are an existing investor, a soon-to-be investor, or if you are interested in becoming a real estate negotiator. Whether it is a first-hand experience or just hearsay, almost anyone you come across – from your own best friend to someone else's grandmother - seems to have his or her own opinion on this subject. While you may actually gain some golden nuggets from these self-proclaimed experts, these "expert advice" should be taken with just a grain of salt at best, especially if someone tells you that the quickest way to get rich is through real estate investment.
Like most things in life, there is no overnight success in building your wealth or a career in real estate investment. With this in mind, Enoch Khoo shares the experiences of his property investment journey that eventually led to a flourishing career during the past decade where he had encountered a fair share of ups and downs. Most of all, he hopes to debunk myths and reveal cold hard truths of the real estate industry while steering budding real estate negotiators in the right track towards success.
In his first book, Cock & Bull Of The Real Estate Industry, readers will be able to get a solid quick look at the real estate investment business – minus the hogwash – and learn from the real life experiences of Enoch and others whom he met along his journey.
Discover how this young Sabah lad left his comfort zone in the corporate world and travelled to Peninsular Malaysia to kick-start his venture in real estate from ground zero, and how he successfully took it to where it is today. Through a no holds barred fashion, Enoch tells it like it is and guides you towards achieving the right mindset in order to thrive in the highly competitive real estate industry.