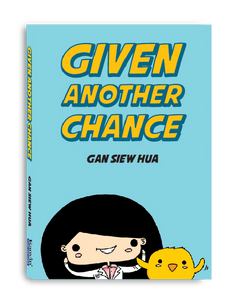 *This is an E-book Version
This collection of short stories allows a peek into the personal real life events of an individual named Gan Siew Hua which yielded many inspiring lessons and motivations as the stories unraveled. In Given Another Chance, the author had death staring in her face when the boat carrying her and her family members capsized near Perhentian Island. Finding My Motivation to Study, is a poignant story of how her life was completely transformed when one day she looked out of the window and saw the silhouette of her mother against a giant truck, begging the driver to wait for her own children. My Scuffle with a Thief was a hilarious real life event of the author who found herself on the motorbike of a thief who attempted to steal her purse. A Visit to the Old Folks Home tells of another touching story of how the author's life was lifted when she attempted to lift that of others.
Overall, the book is a daring but delightful look at what it really takes to be a human who has been thrown various life challenges. The book is filled with personal accounts which can help others realise their true potentials. Bluntly honest and at times, funny, this is a book for everyone who has ever been shaken in their lives and needs a wake-up call.