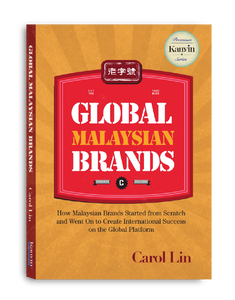 *This is an E-book Version
For decades, Malaysian entrepreneurs have been a strong force in the domestic commerce, building up personal business empires and contributing to the economy of the country. Some of them even took the further step of expanding their horizons and ventured abroad. Due to their extraordinary courage and vision, there are now many successful Malaysian businesses all over the world.
Globalisation is a journey full of challenges and risks, but the global Malaysian brands featured in this book, namely Khind Holdings Berhad, Lingham & Son (M) Sdn Bhd and Top Glove Corporation Berhad embraced it with strong determination and have eventually become international success stories!
This entrepreneurial spirit of Malaysian businessmen and women who took the road less travelled in embarking on a global journey deserves the respect of fellow Malaysians. The inspiration to publish this book comes from a desire to communicate this spirit to readers and share with them the value of such an endeavour!
A visionary leader with courage and perseverance -- this is the common characteristic shared by the three entrepreneurs featured in this book.
They have great passion for their business, they are not willing to settle for theories, they see the future, not the present; hence, they choose to drive their business to a higher level, onto the platform of the world!
Their vision and their passion have brought them victory, and today, they stand proudly as pioneers in globalizing their business!
Global Malaysian Brands pays respect to all the visionary Malaysian entrepreneurs who have taken on the challenge of going global and have won success.
These visionary leaders have shown us the real meaning of entrepreneurship, and they have also created a precious legacy for future generations!