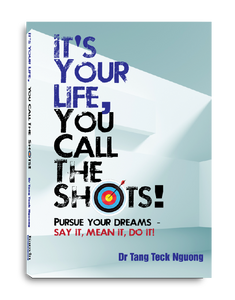 *This is an E-book Version
Life is the greatest teacher on earth if we have the thirst to learn. The most wonderful thing about it is that the lessons it teaches us stay with us forever, we can take them with us wherever we go and share them with the people around us. Everyone is born into this world with a purpose. You will really start to appreciate your purpose when you begin to add value to somebody else's life.
The purpose of this book is to share with you everything that has
inspired the author in life with the hope it will inspire you in some way.
This is your life, you call the shots!
Author: Dr Tang Teck Nguong