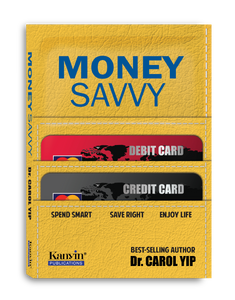 *This is an E-book Version
Think credit cards are just another method of payment? They can, in fact, influence how you spend and how much you spend in ways you aren't aware of.

This book uncovers those ways, brings to light the psychological effect of credit cards, and why it may be all too easy to fall into debt despite your best intentions.

Carol draws from a wide range of published research studies and books on neuroscience, behavioral finance, financial psychology and human behaviour and attitudes, as well as her own research project on credit card use, 'Malaysia Perspective: Credit Card Mismanagement Attitude' to give you the insights.

Learn how your brain functions when it makes decisions about spending money and using credit cards. Seek out that ' ah-hah!' moments. Once you understand the problems, you can learn how to bypass the natural instincts that go against your financial well-being.

If you are already in debt, gain control of spending decisions by using the step-by-step techniques taught in this book.

Carol offers a bag of strategies, techniques, and methods to help you get out of your credit card spending problems, depending on the symptoms and root causes.

You will find some useful ideas and techniques to control your credit card spending in the 3-Sequence Intervention of Thought (3-SIT) and the self-management program of Controlling Your Overspending Behaviours (CYOB) which Carol has designed for you.

Take action by implementing ideas and methods that work well for you is the best way to move forward!


Author: Carol Yip