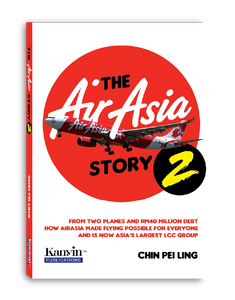 *This is an E-book Version
Twelve years ago, you may get laughed at in Malaysia if you would suggest that one day, everyone can fly.
Flying (in planes) was not for everyone in Malaysia.
Legendary entrepreneur Tan Sri Dr. Tony Fernandes believed that he could do something about it, together with Dato' KamarudinMeranun. The duo launched Malaysia's first low-cost airline, AirAsia in 2002 – to the scrutiny of many who were doubtful if the LCC model was workable in Malaysia. At the time, AirAsia had only two aircraft with nearly RM40 million in debts.
In just seven months after its launch, AirAsia had settled all its debts, generated RM113 million in revenue and RM19.4 million in profit!
Join us in this exciting sequel as we look at AirAsia's journey from 2008 onwards until today in 2014 – including AirAsia's thrilling additions to its CEO line-up, its many regional affiliates, factors for its continued success, and its business beyond the airline industry.