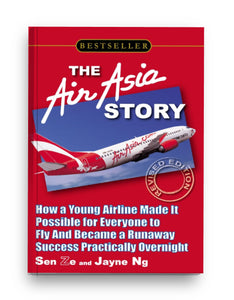 * This is an e-book version
The AirAsia Story: How a Young Airline Made it Possible for Everyone to Fly and Became a Runaway Success Practically Overnight

Since bursting onto the scene in 2002, AirAsia has quickly become the most successful budget airline in Asia today.
This book traces AirAsia's eventful history from its humble beginnings as a small-time player with only two aircrafts to its credit and RM40 million in debt from Day 1 of its operations, to its present-day success as THE trendsetter among low-cost airlines in Asia. It now carries millions of passengers every year, making millions in net profit in the process.
This book reveals its challenges, hurdles, bumps and how it overcame them all in more detail for you to have a fuller understanding of just how remarkable its achievements really are.
Get ready to be blown away by this story of the resilience, daring and imagination of AirAsia's founders, who all bravely took on the brutal circumstances they found themselves in, leading AirAsia to become THE brand on the lips of budget air travellers all over Asia in just a few short years. 
This Revised and Updated Edition adds five exciting new chapters to the original text. Two of them take you into the mind of Group CEO Tan Sri Dr. Tony Fernandes, who reveals his thoughts on running and operating AirAsia. The other three look at the sources of the airline's income (other than ticket sales) that bring in millions of ringgit more in revenue; its ingenious and cost-effective branding exercises; and AirAsia X's aspirations to go into the long-haul budget carrier service.