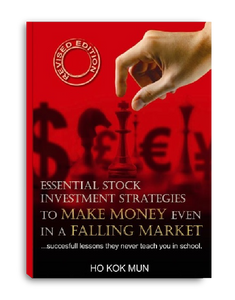 The book might come with one or more conditions below but at a cheaper price:
Bent and warped

Creased book spine / spine wears

Scratches and marks on book cover

Yellowish book cover

Spot UV peels off

Book cover dented

Slight off alignment
Essential Stock Investment Strategies To Make Money Even In A Falling Market  ~ Author : Ho Kok Mun
Synopsis:
This book is Kok Mun's second book which has since become bestseller that has stunned the thriving community of stock buyers.
In this book, he does not only show you simple steps that are easy to follow, but also reveals basics of proper stock investment techniques in simple terms.  Kok Mun explains how to invest in the stock market and also how to think like a businessman.
In this book, you will learn:
•    How to maximise your returns by investing in what you know best.
•    How to identify what business of stocks to invest in to create a lasting income producing opportunities.
•    The essential characteristics of a great investors.
•    How to understand a business, one of the keys to mastering the art of investing in the stock market.
•    How to make money by buying and holding QUALITY stocks.
•    Low risk methods to make MORE money in the stock market
•    And MANY MORE!
Kok Mun has always believed that investors should stick to the basics: get into the habit of saving and investing; develop a strong risk appetite to anticipate a falling market; do the necessary homework to understand the reasons for owning to own a particular stock; and buy shares in solid companies, holding them for the long term.
Invest in this book -– it will change how you view stock investment and help you make lots of money from it!