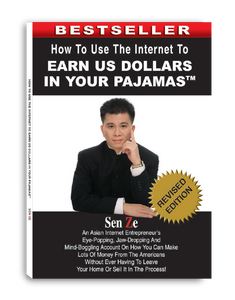 ISBN: 9833789122

Many of us dream of having our own business, but the high costs of starting a conventional business and the huge risks involved mean that it remains a dream for most of us.
There are the traditional low-cost alternatives, but this amazing book isn't about those that you already know so well.
This is something new, and totally exciting!
Discover how Sen Ze, a Malaysian, earns US Dollars from the Americans without leaving the comfort of his own home in Malaysia by using the Internet- and how any Asian can do the same thing!
Watch very carefully as he takes you behind the scenes of his own Internet Business that cost him only USD100 to set up,  and about USD30 a month to operate in selling his product at US$97 each!
See how he gets his American customers to pay him first before they get to see his product!