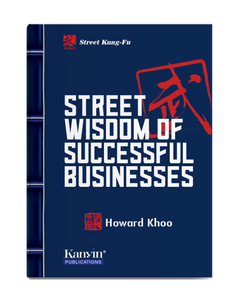 ISBN                     :9789834132743
Pages                   : 432

Published Year : 2017
Statistics show that some 50% of business start-ups fail within the first 12 months and 95% fail within the first five years of their existence. The main reason behind this high occurrence of business flops lies in the inadequacy of astute skills, practical wisdom and applied know- how that is required for entrepreneurial survival.
Howard Khoo, through his life experiences and vibrant career, has put together an ingenious collation of shrewd and tangible approaches that entrepreneurs can employ to increase their chances of subsistence while starting and running a business. The "street-smart" methodologies he employs are a distinctly new take on the practical considerations of managing an enterprise, and serve as a refreshing companion to the existing literature on business practices. It is an absolute essential reading for all business contenders and hopefuls.
Packed with factual case studies and real-life applications, this volume also contains numerous cartoon and graphic illustrations that frame things in a more humorous light, to entertain the reader during this journey of insightful discovery between the covers of this book.