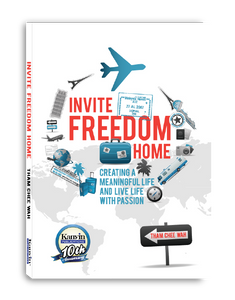 "All you ever need to do is to remember and say 'Yes!' to what shows up."
"Can't be so simple."
"What if it is?"
- Tham Chee Wah -
In Invite Freedom Home, Chee Wah breaks down limiting beliefs to build up self-confidence and inspire you to live free.
He walks you through real-life experience to show you that surrendering to a greater Power promises a freeway to realizing your dreams.
This debut effort is the result of living life to its fullest and enjoying every moment – without an itinerary, without an organized plan and going through life without a map.
In this book, you will also learn the four-steps to creating New Thoughts to invite freedom home, once again.