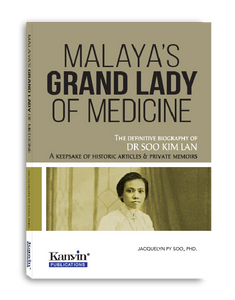 ISBN: 9789833789962
Pages: 268
Published Year: 2017
This is a more than just a biography of the first woman medical doctor in Malaya.
This book takes you on a time travel journey, going back to the early 1910s till 1980s.
Revisiting Dr.  Jacquelyn Soo's journey, she was a pioneer in the medical field and she has contributed greatly to the medical advancement of this nation, chiefly health care for women and mothers.
The story of this Grand Lady of Medical should not be ignored, especially in Malaysia medical's history, and this book is worth treasuring!