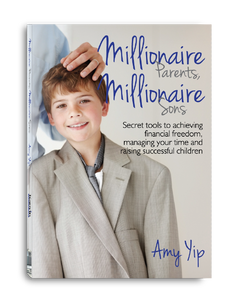 ISBN: 9789833789450
Secret tools to achieving financial freedom, managing your time and raising successful children. ~ Amy Yip
In this book, 'extraordinaire' Amy Yip reveals her difficult childhood, working as trash collector, being hospital-bound almost seven days a month due to chronic asthma since the age of two and a constant ridicule among her school-mates.
Her fighting spirits, willpower and sheer determination in overcoming these adversities; and her commitment in bringing her family out of poverty are lessons ought not to be missed by anyone.
She also talks about her shift from the 'glamorous and high-flying career' in investment banking to the entirely different and very unconventional industry of network marketing or multi-level marketing, the Nu Skin platform where she achieved her "Time and Financial Freedom".
Throughout this book, she has given her own input and opinions, based on her personal values and the experience she has gained from raising her two sons. She also shares her ten little secret tools in raising her children which are very beneficial to the new parents!