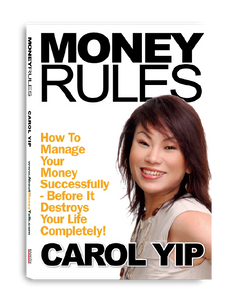 Money Rules: How to manage your money successfully – before it destroys your life completely! ~ Carol Yip
Synopsis:
This book is not about teaching you how to make more money. There are plenty of workshops and seminars that aim to show you how to make millions of dollars from different types of investments and business opportunities. This book is about helping you understand what makes you spend your money the way you do. It discusses the individual's financial behaviour, and helps you know yourself better as well as how you use money to shape your world and relationships with people.
This book will give you an insight into human behaviour and attitudes towards money, to help you achieve emotional happiness, give you a better sense of security, and put you in control of your financial future. By applying an understanding of human psychology to money matters, I have combined the psychology of human behaviour with financial literature – a field termed as Behavioural Finance – to help you understand and learn key personal attitudes that will have an impact on your behaviour and help you manage your money better.
Carol shares insights into how human psychology is interconnected with personal finance, and provides easy-to-understand tools and skills that can empower anyone to manage money better in order to live a purposeful life. Carol also shows you, among others:-• To control and manage your overspending behaviour
• To reduce your debts.
• How to improve your wealth mindset
• To create your family wealth legacy
• How to help business owners to unleash their financial maze and many more!