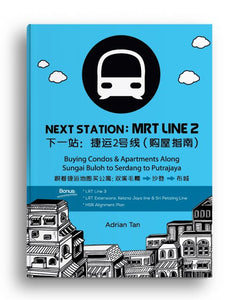 ISBN: 9789833789986
Pages: 314
Published Year: 2018
Tedious, time-consuming research all done for you!
Your search for properties along the MRT/LRT line stops here!
Purchasing a property is probably the most expensive purchase you will ever make in your lifetime and it makes perfect sense that thorough research and analysis is done prior to signing that dotted line.
However, researching for that perfect property can be a long and painful process that can take weeks, or months!
In this ultimate volume, all high-rise residential properties located within 1km of all new MRT/LRT lines including MRT line 1, MRT line 2, LRT 3 and the LRT extensions have been identified for you. This includes detailed information of layouts, sizes, prices, and even yields for individual units – saving you tonnes of work by allowing you to shortlist your potential
investments at one glance!
本书为您解决了最繁琐和复杂的投资考虑,提供精心研究后的投资方案。
别再为了找寻捷运或轻快铁附近的房屋而四处奔波了!我们已经为您规划出清晰的投资路线图。
购买房产可能是您人生中最重要和昂贵的投资,因此,在做出选择之前,您也许得耗上几个星期或是几个月的时间做分析,研究和比较,这无疑是个非常耗时耗心力的过程。
本书作者以专业的知识,对捷运2 号线(MRT Line 2),轻快铁第3 路线与轻快铁1 号延长线(LRT Line 3 & LRT Extensions 1),方圆1 公里内的公寓楼房做出精准的分析,结合房子的格局、尺寸、环境等因素,剖析房子的投资回筹,整体考虑,帮助您把各种复杂的投资元素,简化成清晰的投资信息,使您可以更准确的做出有潜能的投资抉择。
Bonus 内容随附:
 LRT Line 3
 LRT Extensions: Kelana Jaya Line & Sri Petaling Line
 HSR Alignment Plan