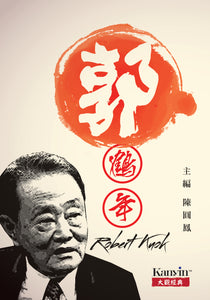 ISBN                     : 9789833789887
Pages                   : 212
Published date  : 2018
The book might come with one or more conditions below but at a cheaper price:
Bent and warped

Creased book spine / spine wears

Scratches and marks on book cover

Yellowish book cover

Spot UV peels off

Book cover dented
Although topping Forbes Malaysia Rich List, the Kuok family keeps a relatively low profile. Robert Kuok is known for his countless virtues rather than his wealth. In his pursuit of wealth, he has never strayed from the path of virtue. As he gained wealth, he extended his virtuous acts by founding charity funds, generously donating and contributing to education, the poor and needy, disaster relief and the nation. He never stops his good deeds while keeping a low profile and staying humble.
This book revolves around Robert Kuok and his business ethics; however, the focus is not his money-making capability but his virtues – his avenue to success. As we study Robert Kuok's success story, it will become obvious that he has stayed true to his virtues – from making small amounts to earning tons. In his business dealings or national causes, he has always upheld his integrity. And the more money he made, the more careful and determined he was to remain upright.