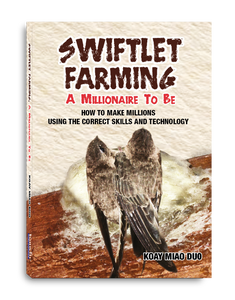 ISBN: 9789833789627
Pages: 192
Published Date: 2014
This book unveils the 'secrets' of swiftlet farming in a practical and easy to understand language.
The author unreservedly shares with you his profound knowledge and skills in the swiftlet farming industry, complete with illustrative vivid photographs.
Do you want to make millions from swiftlet farming?
What are the factors to ensure success in swiftlet farming?
How to design a successful bird house?
How to choose a suitable location for a bird house?
How to increase the swiftlet population in your bird house?
What to do if a bird house fails?
71 valuable answers to your common queries.
and many more…
Make this book your valuable guide in your process of making millions from swiftlet farming!
Author: Koay Miao Duo