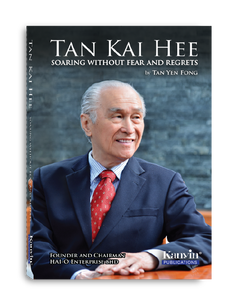 ISBN: 9789671536469
Pages: 394
Published Year: 2019
Mr. Tan Kai Hee is the Founder and Chairman of Hai O Enterprise Bhd. He started Hai O Enterprise in 1975, from nothing to building the company that offering a wide range of complementary medicines (TCM), medicated tonic as well as wellness, beauty and healthcare products and clinical services. It has a market capitalization of 1.32 billion (as at 20th August 2018)
Hai-O was the first traditional healthcare company listed on Bursa Malaysia Securities Berhad since 1996. But Mr. Tan Kai Hee success also lies being the first Malaysian entrepreneur who has pledged to donate all his wealth when the day comes. He took the lead to inspire more families to follow suit so as to avoid the ugly situation of descendants fighting over the wealth left by their predecessors. 
Mr. Tan led a troubled teenage life. He joined the social movement in his youth; he was poor most of the time and had barely enough to eat. When he finally built a successful business, he remained simple and continues to live a simple life. Most of his assets are the equity held by Hai-O Group, and every year the dividend income would be donated to the needy in society.
Mr. Tan has always been a socialist. To him, Hai-O would never have made it this far nor would he ever have been able to live such a prosperous life without the support of fellow comrades and shareholders. As a sign of gratitude, he has pledged to donate his wealth and managed his wealth as a fund in order to contribute to and benefit society on a long-term basis.

Mr. Tan may not be among the richest Chinese entrepreneurs in our country, but he was named one of Asia's top philanthropists by Forbes in 2017. His philanthropic acts have undoubtedly made him one of top philanthropic entrepreneurs in Malaysia. Read this book to learn more about him.