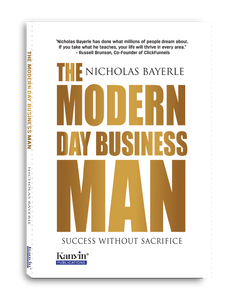 ISBN: 9789671706329

Pages: 168
Published Year: 2019
AS A MAN, YOU WERE PUT ON THIS EARTH WITH A HUGE MISSION!
The Modern-Day Business Man is for the leaders of tomorrow who want success without sacrifice. Men who want to achieve success in their health, wealth, and relationships without giving up their personal life. For far too long, businessmen have been known for neglecting their health, their relationships and working 24/7. The Modern-Day Business Man marks a new era of men who rise up against the status quo and live life on their own terms.
After overcoming the agony of obesity, depression, poverty, and failing out of school, I made a decision to turn my life around. Now it is my mission to help men become 3-Dimensional so they can experience success without sacrifice in their health, wealth, and relationships.
Entrepreneurs have always been the catalysts for change in society, and now more than ever, they are role models. This book shares the timeless principles that I have learned after investing hundreds of thousands of dollars, interviewing some of the most successful people in the world and having a Navy Seal for a mentor over the last decade. 
The Modern-Day Business Man will teach you how to:
Be a 3-Dimensional Businessman, where you prosper in health, wealth, and relationships
Harness the foundational principles of success that will help you become a powerful, motivated and successful man
Tap into your vision, so that you can create and leave a legacy
Build a business around your passions that let you do what you want when you want, and with whom you want
Do you feel called to play at a bigger level? Are you ready to re-write your family tree and live life at the highest level? Then get ready to achieve success without sacrifice as a Modern-Day Business Man!