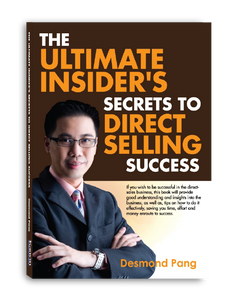 The Ultimate Insider's Secrets to Direct Selling Success ~ Desmond Pang
Synopsis:
In this book, all your 'why's' will be answered! You will have a clearer picture about the business of direct-sales.
Why many work very hard in direct-sales business but hardly achieve any fruitful results?
While some earn hundreds of thousands of dollars without working as hard?
Why some experience roller-coaster ride in direct selling but still managed to move their way up?
Why some are loyal to a direct-sales company, while others hop from one company to another?
Why some direct-sales companies can stay at the top for only 3 years, while others lasted much longer?
Why some direct-sales products are proven effective, while others caused people to lose half of their liver?
Why some direct-sales leaders gain trust and respect, while others are being cursed and blamed?
Why some are proud being involved in direct selling, while others could never accept it?

When it comes to direct selling, we can expect many different reactions. If you decide to get involved in the direct-sales business, you need to know it well. You can't have a half-baked knowledge; and worse, not knowing at all.
Direct selling physician, Desmond Pang shares his knowledge about the industry, providing good understanding and insights into the business, as well as tips on how to do it effectively, saving your time, effort and money en route to success!